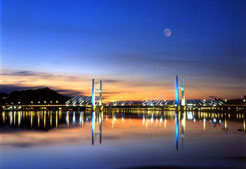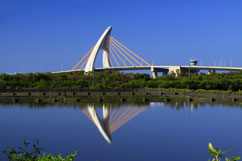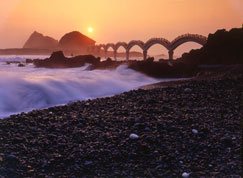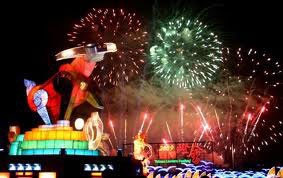 Taipeieco.it - The Economic Division of Taipei Representative Office in Italy
Invest in Taiwan


TAIWAN INVESTMENT ENVIRONMENT

1. Abundant Capital Funds
The foreign exchange reserves of the Republic of China amounted to US$529.91 billion as of the end of December 2020, showing an increase of US$16.51 billion from the figure recorded at the end of the previous month. Taiwan's banking sector is healthy, tightly regulated, and competitive, with 37 domestic banks (with 3,554 branch offices), and 36 off-shore banking units. Furthermore, compared to the neighboring countries, Taiwan's securities and stock exchange market is mature and active.


2. Low Taxation Investment Environment
Taiwan provides an investment environment of low taxation. Beginning from 2010, the tax rate for profit-seeking enterprise income tax was reduced to 17% from 25%. Taiwan also becomes the lowest tax rate country in Asia like Hong Kong.


3. Complete Infrastructure, Convenient Transportation Network
Taiwan has 18 airports, including Taipei, Taoyuan and Kaoshiung international airports. Surrounded by the sea, Taiwan has many harbors, including 5 international hatbors. The domestic transportation network is complete: there are high speed railway, throughout-the-island railways, two high ways, and Taipei and Kaoshiung MRT networks.
Taiwan possesses an advanced fixed broadband market, with services accessible through a variety of technology platforms including DSL, fibre, Hybrid Fibre Coax (HFC), leased lines and wireless. Fibre is the most popular platform and has underpinned Taiwan's relatively high standing in global broadband rankings. Taiwan ranks between the top 20 in the Internet connection speed worldwide.
4. Superior Innovation Capability
Taiwan is an innovation oriented economy. The global competitiveness rankings published by the World Economic Forum (WEF) in 2019 placed Taiwan 12th out of 141 countries. Of special note, Taiwan ranked 4th in the world in terms of innovation competitiveness, emphasizing how the country's soft power in innovation and invention has become the driving force behind its economic development.
Taiwan has a 98.5% literacy rate, the fourth highest standardized math test scores in the world (according to the Organization for Economic Development) and over 25% of all university degrees are in engineering. Seventy percent of the world's integrated circuits are manufactured in Taiwan, and Taiwanese companies have for years excelled at mobile phone, computer hardware, and electronics engineering. As a result, many leading international corporations including Intel, HP, Dell, Sony, Microsoft, IBM, Linde and Ericsson have established their R&D centers in Taiwan over the years. This proves Taiwan to be an ideal location for multinational corporations to establish their R&D bases for innovative R&D activities.
Since the 1980s, Taiwan has taken a proactive approach to the development of emerging technologies. According to a World Economic Forum report Taiwan is in the midst of an innovation-driven economy. These findings are unsurprising given its position as a future-thinking hub of technology and engineering.
5. Comprehensive Intellectual Property (IP) Protection
Taiwan attaches great importance to the protection of IP. Taiwanese government has assigned an IP Protection Police Squad in charge of the law enforcement. An IP court has also started functioning since July, 2008. With these judicial efforts, IP trials were carried out more professionally in Taiwan.
 
Taiwan at a glance


2014
2015
2016
2017
2018
2019
2020 (November)

Population

23,403,635

23,462,914

23,515,945

23,555,522
23,580,080
23,596,027

Industrial production, annual change

6.14%

-1.8%

1.5%

3.76%
3.65%
-0.32%
6.54%

Labour force

11,535,000

11,638,000

11,727,000

11,795,000
11,916,000 (unemploym. rate 3.66%)
11,970,000

(unemploym. rate 3.67%

11,970,000

(unemploym. rate 3.75%

Patent applied

78,014

73,627

72,442

73,791

73,421

Patent granted

78,087

76,406

71,877

62,193

Economic growth rate

4.72%

1.47%

2.17%

3.31%

2.75%
2.73%
3.92%

Nominal GDP (US$ million)

535,332

534,474

543,002

590,780

608,186
611,451

GDP per capita (US$)

22,874

22,780

23,091

25,080

25,792

25,917
What Taiwan has Achieved

1.  Strong Economic Performance
According to the World Trade Organization, Taiwan was the 17th largest exporter and 17th largest importer of merchandise in 2019. It was also one of the largest holders of foreign exchange reserves as of December 2019. Taiwan's gross domestic product per capita
reached US$25,909 in 2019. In terms of nominal GDP, Taiwan ranks close to Switzerland and Poland, while its GDP per capita expressed as purchasing power parity is similar to that of Sweden and Denmark and higher than that of Japan and South Korea.
The amount of total trade reached USD614.9 billion (2019).
Under the New Southbound Policy, Taiwan is deepening ties across the board with the 10 Association of Southeast Asian Nations member states, six South Asian countries, Australia and New Zealand.
In 2020 Taiwan exports hit a record high despite the global economic slowdown triggered by the COVID-19 pandemic, according to Ministry of Finance (MOF) statistics released on January 2020.
Exports for the year totaled US$345.28 billion, up 4.9% from a year earlier, beating the previous high of US$334.01 billion in 2018.
Imports totaled US$286.49 billion in 2020, up 0.3 percent from the previous year, according to the latest figures.
That yielded a trade surplus of US$58.79 billion, which was also the highest ever and US$15.28 billion higher than in 2019.
Taiwan's success in controlling the pandemic also helped it get many orders diverted from other sources, and its semiconductor sector continued to dominate the global market with advanced manufacturing processes.

2.  Supply center for High-Technology Products
With strong high–tech products manufacturing capabilities, Taiwan companies have been the important partners of global brand names, such as Nike, Apple, HP, etc. . In addition, more than 20 Taiwan high-tech products rank top three in the world, including LCD, Navigator, Motherboard/PC, DRAM, and Golf head etc. The following well known brands are in fact from Taiwan: ACER (notebook), ASUS (notebook), HTC (mobile phone), GIANT (bicycle), Garmin (navigator).
Opportunities for Italian Business


Excellent venue for investment.
According to the statistics, 3,157 foreign direct investment (FDI) projects with a total amount of US$8,150,225,000 were approved from January to November 2020. This indicates a decrease of 14.63% in the number of cases, and a decrease of 20.17% in FDI amount compared to the same period of 2019.
With regard to inward investment from Mainland China, 85 cases were approved with an amount of US$123,980,000 from January to November 2020. This indicates a decrease of 37.04% in the number of cases, and a increase of 31.49% in the FDI amount compared to the same period of 2019. From July 2009 to November 2020, 1,456 cases were approved with a total investment amount added up to US$2,408,951,000.
In terms of Taiwan's outbound investment (excluding Mainland China), 474 projects were registered from January to November 2020 with a total amount of US$7,925,722,000 indicating a decrease of 24.52% in the number of cases, but a increase of 27.44% in the amount, as compared to the same period of 2019.
As for Taiwan's outward investment to Mainland China, 445 applications have been approved from January to November 2020, indicating a decrease of 20.25% compared to the same period of 2019. The approved investment amount is US$5,603,122,000, 50.43% more than the same period in 2019.
Taiwan is also putting lot of resources to develop six emerging industries (Biotechnology; Medical and Health Care; Culture and Creation; Tourism; Green Energy; High-end Agriculture). In short, Taiwan represents a good investment opportunity for Italian business.   
Close Economic Relationship between China and Taiwan
Since May 2008, the economic relations between China and Taiwan are getting very close.  For instance, there are over 83 harbors for direct navigation, including Shanghai, Shenzhen, Guangzhou, Ningbo and Qingdao, five of top ten busiest ports in the world. Meanwhile, there are 828 direct flights between Taiwan and China every week.  Furthermore, with the signing of ECFA (a kind of FTA) between China and Taiwan, Taiwan can enjoy immediately zero or lower-duty exportation of goods and better market access on service sectors in China.
Taiwan has irreplaceable links with China. Taiwanese speak the same language, share similar cultures with Chinese. If Italian businessmen could cooperate with Taiwanese partners to take Taiwan's ECFA niches on tariff elimination/reduction and greater market entry on service sectors to explore China's market, we believe it would be a win-win situation for both of our businesses.
 

REGULATION FOR FOREIGN INVESTORS

Reciprocity.
At present time there is no official reciprocity agreement between Taiwan and Italy. Both countries recognize the principle that states that favours, benefits, or penalties that are granted by one state to the citizens or legal entities of another, should be returned in kind.
Reciprocity has been confirmed in matters of  holding shares of a company, acquiring the membership of a corporate executive board,  establishing a branch office, a proprietary business or a partnership (from Italian Ministry of Foreign Affairs).
From Taiwan Investment Commission, MOEA:
Statute For Investment By Foreign Nationals, download
Negative List for Investment by Overseas Chinese and Foreign Nationals (revised on June, 2013), download
Double Taxation Agreement.
The agreement to avoid double taxation between Italy and Taiwan took effect on Jan. 1 2016. Italy became the 14th country in Europe to complete a double taxation avoidance agreement with Taiwan.
Due to the increase in bilateral trade between Taiwan and Italy in recent years, small and medium-sized businesses on both sides are eager to see the passage of legislation on the avoidance of double taxation. The legislation is expected to inject new impetus into Taiwan-Italy economic relations.
The Decree, which follows the patterns accepted internationally by the OECD, aims to eliminate the phenomenon of double taxation and to ensure more effective enforcement of tax evasion. The rules apply to individuals and businesses residing in Italian and Taiwan territories.
DTA text, English - 我國所得稅協定一覽表-財政部全球資訊網 (mof.gov.tw)

PUBLIC PROCURMENT

Since 2009 Taiwan joined WTO GPA (government procurement agreement). Public procurement in Taiwan is open to foreign companies.

http://web.pcc.gov.tw


SOURCING TAIWAN ONLINE 2021

Taiwan Anti-Epidemic Products Online Biz Meeting 2021
LINKS

Department of Investment Service. Financial assistance and incentive, https://investtaiwan.nat.gov.tw/homePage
Ministry of Finance, Taxation, www.dot.gov.tw/en/  
Laws and Regulations Database, http://law.moj.gov.tw/eng/

Ufficio di Rappresentanza di Taipei - Viale Liegi n.17, 00198 Roma | Tel. 06-98262800 - P. Iva 97076980586